Address: 655 Straits Turnpike, Watertown, CT 06795
Phone # (860) 483-8144
To arrange a personalized tour: watertown@ivyassistedliving.com
Website: Assisted Senior Housing in Watertown, CT | The Arbors Assisted Living
One of the many assisted living facilities in Connecticut is named "The Ivy at Watertown, Connecticut." This family-owned business is located in Watertown, Connecticut, near the towns of Thomaston, Middlebury, Bethlehem, Woodbury, Plymouth, Litchfield, and Morris.
Like many assisted living facilities, they offer studio, one-bedroom, and two-bedroom apartments. There are approximately 89 units located at 655 Straits Turnpike Watertown, CT.
One of the many things that set The Ivy apart from other assisted living facilities is its "Reflections unit" memory care unit.
The Reflections Memory Care Unit
Reflections units are the memory support apartments at the Ivy of Watertown. These live-in units provide support for your family members with memory loss.
The look and feel of this community living are warm and inviting. Walking through the reflections units provides residents a safe and homelike environment.
This section of the assisted living facility offers more security and assistance for your loved one with memory issues. The goal of the Ivy is to "promote the highest quality of life by adapting our staff, environment, and daily routine to the needs of each individual."
There are even certified dementia practitioners on staff trained to work with people with memory loss. The extra training helps your loved one get the support they need to thrive in this setting.
Assisted Living 
Assisted living services help provide the "extra services" many of us need as we age. As we get older, we want to maintain our independence in living. However, we sometimes need an extra helping hand to provide this care.
By staying at the Ivy, you can have a greater chance of maintaining your independence. It's often the day-to-day tasks that prevent you from living alone.
Tasks The Ivy staff can assist with include but are not limited to:
Getting dressed
Bathing
Medication administration
Medical care
You will have access to social, physical, and mental support while staying at an assisted living facility. When you live with other like-minded people, you are bound to make friends during your interactions.
The personnel at the Ivy at Watertown develop a personalized plan based on you or your family member's needs.
Independent Living
Independent living units are comfortable and secure, allowing you to maintain independence while having access to staff when a "situation" arises.
All the living quarters can be decorated and furnished, allowing a personalized feel for the new home. Many of the same things in your home can be in your new living quarters.
Most living spaces have the same look and feel as their previous homes. Having similarities can make the transition to the new environment much more effortless.
Meals
The Ivy at Watertown provides meal plans for its residents made fresh daily. The Ivy even offers snack options between meals. The rooms have refrigerators to store food to make your meals.
Throughout the year, they have special events that offer cookouts and picnics. You can even get private dining or family-style meals when needed.
Residents may choose to have catered meals which is an excellent option for hosting a family get-together.
The facility can work around specific "diets" that residents may have upon request. They say the chefs can manage most diet requests.
Services
There are multiple services offered at The Ivy. There are indoor and outdoor activities (weather permitting). Group activities that will keep you or your loved one occupied. The group activities allow you to meet new people and make friends. 
There are onsite services such as:
Beautician 
Devotional Services off-site
Reading activities
Access to independent onsite Medical Staff from InHouse Care LLC 
Recreational Staff
Off-site trips
Personal Care Services
Onsite Nursing and VNA services
Physical therapy
Laundry services
Emergency call systems with pendants
Other extra services can be provided with an additional charge if needed. Some of these extra services are covered by medical insurance and long-term insurance.
Medical Services
Currently, The Ivy has access to medical services in the form of an advanced practice nurse practitioner (APRN) working under the direction of a medical doctor dedicated to the facility. They come to the Ivy to provide in-person evaluations. InHouse Care is a mobile medical provider that comes to assisted living facilities and nursing homes throughout Connecticut.
There is also a behavioral health APRN that comes to the facility. They can manage depression, anxiety, bipolar, dementia, and psychiatric illnesses with a medical provider. 
A podiatrist will sometimes come to the facility and care for the resident's foot care. 
Many of the same imaging that usually requires a trip to the imaging center are performed at the facility. A third-party company comes to do X-rays, EKGs, and more.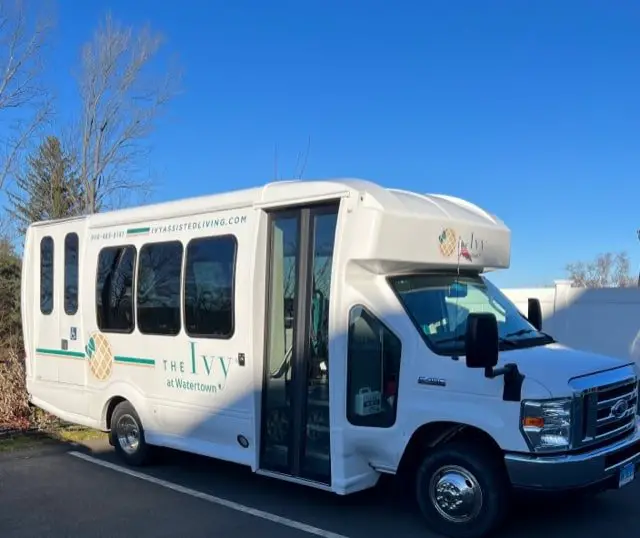 Conclusion 
If you are looking for a safe, pleasant place to live, The Ivy of Watertown can provide you with a comfortable and beautiful setting. The staff and management go the extra mile when providing care to their residents.
This family-owned business has done an excellent job creating a "family feel environment" for its residents. The nursing and care team provides services for their residents, like their own families.
The pricing to stay at this location appears competitive with other similar assisted living settings in Connecticut. The great news is they do not lock you into a long-term lease. They let their excellent service and facilities make you want to stay.
Give "The Ivy at Watertown" a call to schedule a tour, or check out their Facebook page here.